Samantha Boscarino

Biographical
Full Name

Samantha Joann Boscarino

Nickname(s)

Sam

Gender

Female

Date of Birth

December 26, 1994 (age 23)

Place of Birth

Ventura County, California

Height

5'4"

Eye Color

Brown

Hair Color

Black

Occupation

Actress, singer

Website
Role
Samantha Joann Boscarino is an American actress. She received her first big role in 2008 as Alicia Rivera in The Clique based off of the book of the same name. Since then she has gotten many roles in shows such as Wizards Of Waverly Place and JONAS, and played Gloria in the 2009 movie The Perfect Game. She now resides in Burbank, California with her Dad, Mother, Sister, and her Yorkie, Tootsie.
Career
Her first notable role was in the Tyra Banks-produced film The Clique. She also appeared on The Tyra Banks Show with her other co-stars Elizabeth McLaughlin, Ellen Marlow, Sophie Anna Everhard, Elizabeth Gilles and Bridgit Mendler. Boscarino also has a recurring role in Good Luck Charlie as Skyler reuniting with Mendler. Her other television credits are JONAS, True Jackson, VP, Parenthood, Good Luck Charlie, Wizards of Waverly Place and appearing in the film The Perfect Game.
In 2011, she was cast as Molly in the Nickelodeon series How to Rock, as Molly Garfunkel.
Personal life
She is of Italian and Ecuadorian descent and has a sister, named Lea Boscarino.
Filmography
Film
Year
Film/TV series
Role
Notes
2008-Final
The Clique
Alicia Rivera
Direct-to-video film
2009-Final
The Perfect Game
Gloria
Theatrical film
2009-Final
JONAS
Amy
Episode: "Complete Repeat"
2010-Final
Parenthood
Lindsay
Episode: "Perchance to Dream
2010-Final
True Jackson, VP
Carla Gustav
Episode: "Trapped in Paris"
2010–Present
Good Luck Charlie
Skylar
Recurring role, 9 episodes
2010-Final
Wizards of Waverly Place
Lisa Cucuy
Episode: "Alex Gives Up"
2012
How to Rock
Molly Garfunkel
Series regular, Nickelodeon series
2014
Zoe Gone
Amber
Theatrical Film
2015
Girl Meets World
Sophie
Girl Meets First Date
Music Videos
2012
"Rocketship"
Herself
Cameo; she is seen alongside Bridgit Mendler
External Links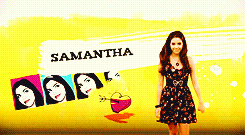 Trivia
In her role in Good Luck Charlie as Skyler, her character plays Skyler as somewhat clueless, whereas Molly is

smart and evil. Similar to how Skyler was a clueless best friend to a main character in Good Luck Charlie, Grace now takes this role to Molly.
After the cancellation of How To Rock she returned to her role as Skyler in season 4 of Good Luck Charlie.
Her best friend is Bridgit Mendler--they have been best friends since they were around 13.
Many of her castmates say that she is the smartest of the cast.
Her celebrity crush is Joseph Gordon-Levitt.
She has been homeschooled since the 5th grade.
She has a miniature Yorkie named Tootsie.
She appeared in Wizards of Waverly Place.
She was also in the movie The Clique with Bridget Mendler. Also, it is interesting to note that her role in the Clique is very similar to her role as Molly, as both characters are mean and popular.
She made an appearance in Shane Harper's music video 'Rocketship' as one of Bridget Mendler's friends.
She dated Gregg Sulkin, who also was on Wizards of Waverly Place. They met at childhood.
It is rumored she dated/dating Joe Jonas, Matt Shively, and Doug Haley.
She has a sister named Lea Boscarino.
She appeared in an episode of Bucket and Skinner's Epic Adventures as C.J. in the episode Epic Dates.
She guest starred in a episode as Sophie in Girl Meets World: Girl Meets First Date in 2015.
Gallery
To view the Samantha Boscarino gallery, click here.