Zavin (Za/nder + Ke/vin) is the friendship pairing of Zander Robbins and Kevin Reed. It is shown that they were good friends prior to the premiere, as they were both in Gravity 5. Since this a pairing with the same gender so this relationship pairing will not happen since this is a kids network. This pairing could also be named Kender.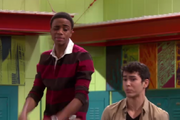 Zavin Moments
Season 1 Moments
It's revealed that Kevin, Zander, Nelson and Stevie are in a band called Gravity 4.
Zander and Kevin along with Nelson make a bet.
Kevin tries to make Zander lose the bet.
Zander helps Kevin with his debate.
Kevin asks Zander to help him with the election.