Zevinson

General Information
Intimacy Level
Friends
Started Friendship
Before "Braces & Glasses"
Zevinson (Z/ander + K/evin + Nel/son) is the friendship tri-pairing of Zander Robbins, Kevin Reed, and Nelson Baxter. They're all good friends, as they were all members of Gravity 5 prior to How to Rock Braces and Glasses.
Zevinson Moments
Season 1 Moments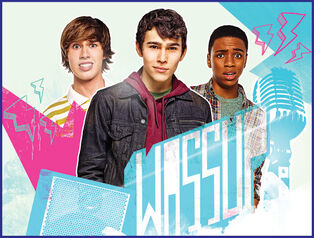 They told The Perfs about their band.
They told The Perfs their catchprase.
They convinced Stevie to let Kacey Simon in Gravity 4.
Zander took up for his friends when they were called The Dorkel Band.
They asked Kacey Simon to be the lead singer in their band.
They were scared to tell Stevie about Kacey Simon being in their band. They huddled together to protect themselves.
They let Kacey Simon retry her song when she failed at it.
They practiced Only You Can Be You together.
They entered the talent show together.
They were willing to change the name of the band from Gravity 4 to Gravity 5.
They were frightened when Kacey Simon left the band.
They all performed on stage together at the talent show.
They all handshaked and hugged each other at the end.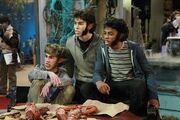 Kevin and Nelson try to make Zander feel self-conscious of his appearance.
They try to come up with an idea to create a device that will let them have food whenever they want without moving a muscle.
They all joined track together.
Kevin and Nelson tell Zander that Kacey and Stevie read his song book and thinks he likes one of them.
They're all surprised when asked by Andy to buy a telegram, asking Stevie to the dance.
They perform a telegram together for Stevie, as requested by Andy.
After Stevie accepts Andy's request, the boys say "What" in unison.
After Andy faints, they finish his sentence with words of they're own. (Zander: "School?" - Nelson: "World?" - Kevin: "We'll never know.")
When Stevie asks Mark how his recycling project is going, Zander makes his way to her with Nelson and Kevin following behind.
Zander says to Stevie that she's surrounded by the "three hottest dudes in school" and all three boys chuckle in agreement.
Because they're all afraid to touch the worms, they all turn to Stevie for help.
The three of them run after being thrown worms.
They all go up to Mark to let him know that they only look at Stevie as a sister.
Nelson and Zander both want Kevin to make and bring them lunches.
They all start a business together: A Little Slice of Kevin
Kevin gives specific orders to Nelson and Zander on how he wants the bread to look
When Kacey apologizes for "exploding" on the band, in the background, the boys unload boxes together
When Molly and Grace are about to leave the band room, the boys come in with the rest of their unsold lasagna.
Before the trip, they all share what they're bringing.
When Zander eats the poison, they carry him to the shop.
They're near each other when at Danny Mangoes; Nelson and Kevin both sitting down with Zander standing behind.
Kevin asks "What's up with Scrooge" when he notices Kacey's mood. Zander replies for her.
When Stevie says the band can make smoothies while she finishes up, Zander remarks she never let's them make smoothies.
When Stevie says that Christmas brings out the nice in her, they all go to the counter.
Kevin brings out a leftover burrito and adds it to his smoothie, whereas Nelson and Zander both have a disgusted looks on their faces.
They all start their blenders, causing the power at Danny Mangoes to go out.
When Zander says he'll give them a boost, Kevin and Nelson mention that there might be mice in the air vents.
Zander and Nelson both help Kevin up after he falls from the ceiling.
Again, they're near each other when in the department store; Zander and Nelson both standing, while Kevin is sitting down on a chair.
Trivia
They are all in Gravity 5.
They make up all the guys in Gravity 5.
They were first members of Gravity 5 to be introduced.
Zander appears to be more social then Kevin and Nelson.
All three of them are scared of touching the worms in How to Rock a Good Deed.